Maybe it's a sign that I'm getting a bit older or perhaps it's my inner nerdy tendencies, but I have come to love watching really well-made documentaries! In fact sometimes I even prefer documentaries to regular films.
Last night, along with fellow designer Jordan Ross, we made the drive to Berkley just to see the documentary "Dior and I" at the historic Shattuck theater! This was the opening night in California for the film which recounts the story of how Belgian fashion designer Raf Simons came to be the creative director for the iconic Dior fashion house in 2012.
The most incredible part of the film was the fact that Simons had a mere 8 weeks to create his first collection as well as design the runway fashion show for the unveiling of the collection!
I couldn't help, as I watched the story unfold on-screen, to fully relate to the process of designing something in your mind, sketching it on paper and turning those designs into reality! That's exactly what we do in the event world - not that I'm comparing myself to Raf Simons, Dior or an internationally acclaimed fashion brand, but the basic concepts are certainly quite parallel to event design. Of course one of the elements which I found most intriguing were the walls of live flowers that Simons designed for the backdrop of his show - which was held in a beautiful historic home in Paris!
Raf Simons brilliantly transformed paintings by artist Sterling Ruby, which inspired him, into graphics, and then applied those graphics onto threads which were woven into fabrics and used to create pieces in his 2012 haute couture collection for Dior!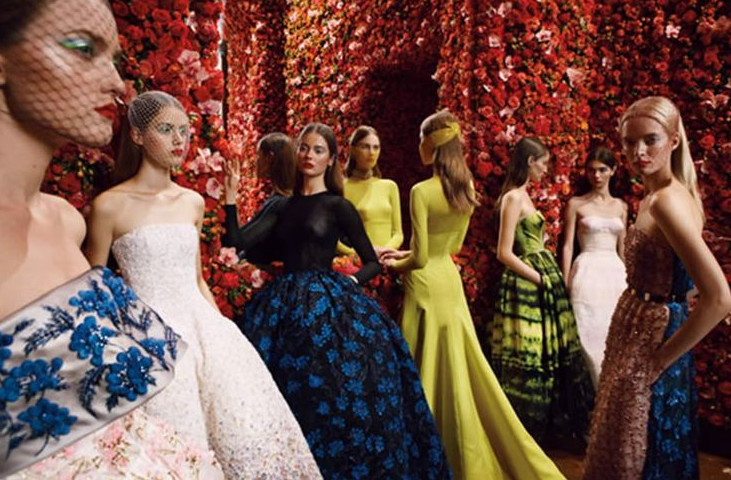 Halfway through the film I was almost asked to leave because I was taking photos of the screen with my phone, but being the chronic rule-breaker that I am it was worth it for some of the shots that I captured!
This documentary film will thrill and inspire you whether you think you're a fashion enthusiast or not - a must see for everyone!